I have many times seen this meme which is a manipulation of the plate boundaries to look like The Midgard Serpent (also called Jörmungandr)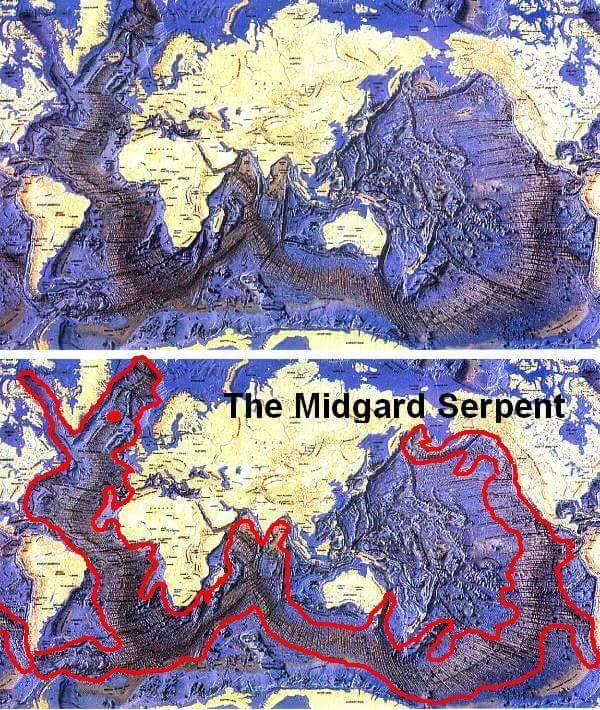 Often the Meme is followed by this text:
"The myths are a storehouse of infinite knowledge. They speak of the Midgard Serpent lying at the bottom of the see. He encircles the globe and when he moved great earth trembles cause terrible convulsions. Most believe this is just a tale, but the ancient knew of his existence at the bottom of the oceans. Now, with modern technology, we can see for ourselves that the Myths were true–he does exist. But how did primitive Norsemen know of this great belt of fissions at the bottom of the oceans? Perhaps they were not primitive as most people think they were? Did they have knowledge passed down to them from thousands of years earlier, in a time when their ancestors had built an advance civilization, more advanced than ours' today? But when it collapsed, their knowledge was encoded in Myths passed down from generation to generation? Take a look at the maps once more and think about it. – unknown author"
My comment:
It is funny and might be an interpretation of the myth into modern cosmology we can use today, but the thing about "advance civilization, more advanced than ours' today" is at best silly and a little insulting to our ancestors, who did amazing things with the technology available to them. Notice that the map is manipulated. The lines they have highlighted are boundaries between tectonic plates, but they have just selected those that fit with what they want you to see. Humans are experts to notice patterns and if you condition people to see a pattern they will do so.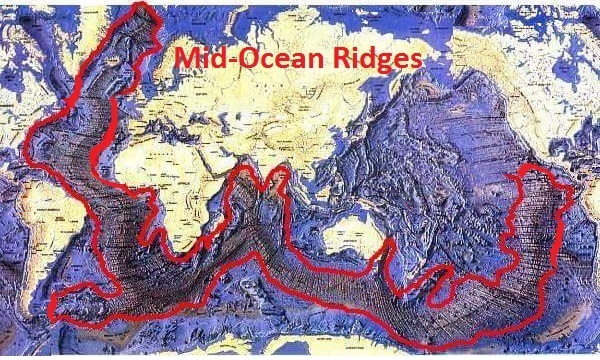 Most of the boundaries they have chosen are the mid-ocean ridge, but not all. The ridges near the west coast of Greenland are very small and not active anymore and in the Pacific, there are only ridges in short areas along the Californian coast and none along the Aleutian Islands. On the map above the mid-ocean ridge is colored red. I have modified the original map to show this. Notice how the serpent has disappeared.
They have chosen to include the destructive line along the Californian coast and the destructive boundary along The Aleutian Islands. If they decided to include island arcs and destructive plate boundaries, then there are plenty of more places that need to be included in the picture. They are included as lines with lumps on in the picture. If you include all of them, then there is no serpent either.
This page was deleted by a mistake at the end of 2019. This blog post is from the old page and has been reposted on the new page. The original article was posted in December 2016.